Safe and Comfortable cat Boarding in Wake Forest,NC
ATTENTION: For all holiday boarding bookings, we now require a $100 holiday deposit for boardings starting within 7 days before or after a holiday before booking. This deposit is refundable up to 2 weeks before the start date.
Affordable Overnight Cat Boarding
in Wake Forest, NC
We don't just cater to dogs at Audrey's Barkyard, we love cats too!! We have a room set apart from our dog area that is designed specifically for our feline friends to relax and unwind in. There are toys sprawled out around the room to keep them entertained and a 5-tier cat tower for them to scratch and pounce on. When we have multiple cats boarding and they are not from the same household, we alternate who gets free roam of the cat room. When kitty guests are not free roaming, they have their own enclosure with litter boxes, food bowls and water bowls as well as different levels to jump to and from. And of course, they get loads of TLC from our team members just like the dogs do!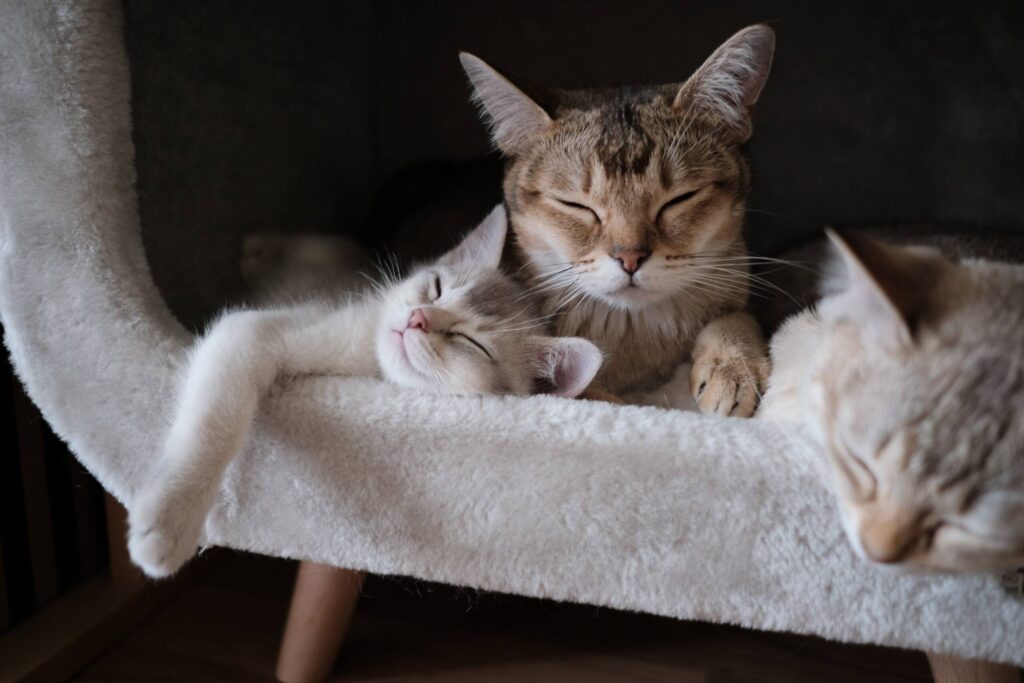 CAT BOARDING REQUIREMENTS
INOCULATIONS FOR CATS: Your cat must be up-to-date on their rabies and distemper inoculations.
PLEASE NOTE: The exceptions to this requirement are as follows:

RABIES EXCEPTION:  Kittens younger than 4 months are not required to receive the rabies vaccination. After 4 months, it is required.
MEDICAL REASONS:  Any vaccination that is restricted due to medical reasons, requires a letter from your veterinarian prior to arrival.
PRICING FOR BOARDING YOUR CAT
Our Upgraded Silver Package includes 15-minutes of one-on-one time with a member of our team. This time can be used to play, cuddle, brush out, or anything else your feline baby enjoys doing. PLEASE NOTE: For all holiday boarding bookings, we now require a $100 holiday deposit for boardings starting within 7 days before or after a holiday before booking. This deposit is refundable up to 2 weeks before the start date.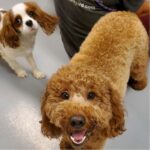 While you're on vacation bring your cat in for a little getaway with our cozy accommodations. This will include play time, meal time, and yummy treats.
For our daycare and boarding guests, we
now offer a $10 discount on exit baths.
The staff are friendly and interactive. The facility is clean and well equipped. We like the live camera feed for doggy daycare and boarding. They offer a large variety of affordable services. and discounts for packages. Our pug puppy Annabelle always seems to be comfortable going here.




My mom takes me to Audrey's Barkyard while she goes to work. I know I am going to have a great day when she tells me to get in the car to go see my friends. I LOVE to play with my dog friends and I really LOVE all of the incredibly sweet, fun and loving humans that take care of me like family. My mom is so happy to see me when she picks me up and I'm so tired from playing all day that I take great naps. My family is so thankful to have such a wonderful place for me to play!
Absolutely fabulous place. Audrey's Barkyard loves loves loves what they do and it shows. They pamper and treat their pups and owners with so much love. Wouldn't go anywhere else!
We were so lucky to find Mark Herrmann to train our dog. We are first time dog owners. Mark was approachable, thoughtful, a great communicator, knowledgeable, and dedicated to helping us. He also loves dogs. I called about a dozen places and when I spoke with Mark, I knew he was a good fit. He was very interested in hearing what we needed and what our dogs unique needs were. He had a set of lesson plans which he provided to us and these were helpful. He also made adjustments based on us and our dog. He spent time getting to know our dog and observing his personality, behavior, and temperament. He was good at giving us feedback on our practice. One of the best things about Mark is he really addressed the issues that all of us were facing with this new dog. For example, I have a history of being afraid of dogs, and my daughter loves dogs and always wants to play with them. I felt like Mark got to know us in just four sessions and he did become our friend. Later an issue came up with the dog and I contacted him just as he had said we could. He came to the house, free of charge, and helped with the issue which was a big relief! He contacted me later to follow up. He even checked in to see how our dog was doing after neutering surgery!
'We couldn't have asked for a better experience and we are so grateful for Audrey's and Mark!
The whole staff just loves their jobs